I've been meaning on posting stuff on my Peafowl.
So here is Jack, He loves his name, He also Broke is crown Like In the Rhyme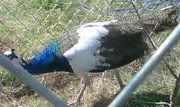 He is 2 years old, Doesn't have his Train, But His molting (:S)
Here is my Female, Her name is Jill (Just like the Rhyme again), She loves her name. She is 1 years old.